Patios | Decks | Pergolas | Lighting | Retaining Walls | Fire pits
Tree Services | Outdoor Kitchens
Patios | Decks | Pergolas | Lighting | Retaining Walls | Fire pits
Tree Services | Outdoor Kitchens
✔ Responsive team
✔ Clear communications
✔ Great results
✔ Responsive team
✔ Clear communications
✔ Great results
Have a Better Outdoor Experience
WITH 3 EASY STEPS

We Listen
Every outdoor experience is unique. Our team takes the time to find out what you want.

We Give You Options
Our team of dedicated professionals will give you the choices you need.

We Deliver
A better outdoor experience.
"We have used Lazo Landscaping for the past seven years. In addition to regular annual landscaping services, Lazo has installed a patio, a stone staircase, two retaining walls, and a stone walkway. The latest project was to replace our deck. I was a complicated project because the deck had a gazebo on it that we wanted to keep. The Lazo crew completed the job in an outstanding manner. They addressed and resolved any question or slight change we had along the way. We are entirely satisfied with the work."
"I was very pleased with the work that Lazo Landscaping did. My yard was a wreck due to having a pool built. They worked diligently to get the job done in one day. I would definitely utilize them again and refer them to others."
"Before Jose and his crew came to look at my yard, I could only use half of it. Lazo Landscaping went in and tackled the river I had in my yard so much water not enough sun to dry it up. After like 4 dumpsters of brush, 3 huge trees, tons and tons of stone, lots of dirt I am pleased to say I can walk through my entire yard and get the kids out the house and enjoy playing outside."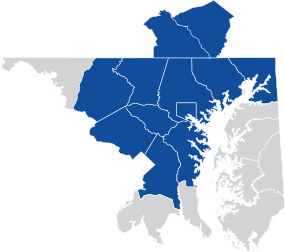 We Serve the Greater Baltimore Area
A Central Maryland Landscaping Company You Can Trust
LAZO Landscaping consistently delivers quality landscaping and hardscaping services to clients throughout the greater Baltimore area. We have dedicated teams for our Residential Landscaping and Commercial Landscaping so you get the outdoor experience you deserve.
Whether you need a new deck or paver patio for your home, or you need a commercial landscaper who does the job right, every time, with no babysitting, LAZO Landscaping is up to the task. Call or use our contact form to get a free estimate.