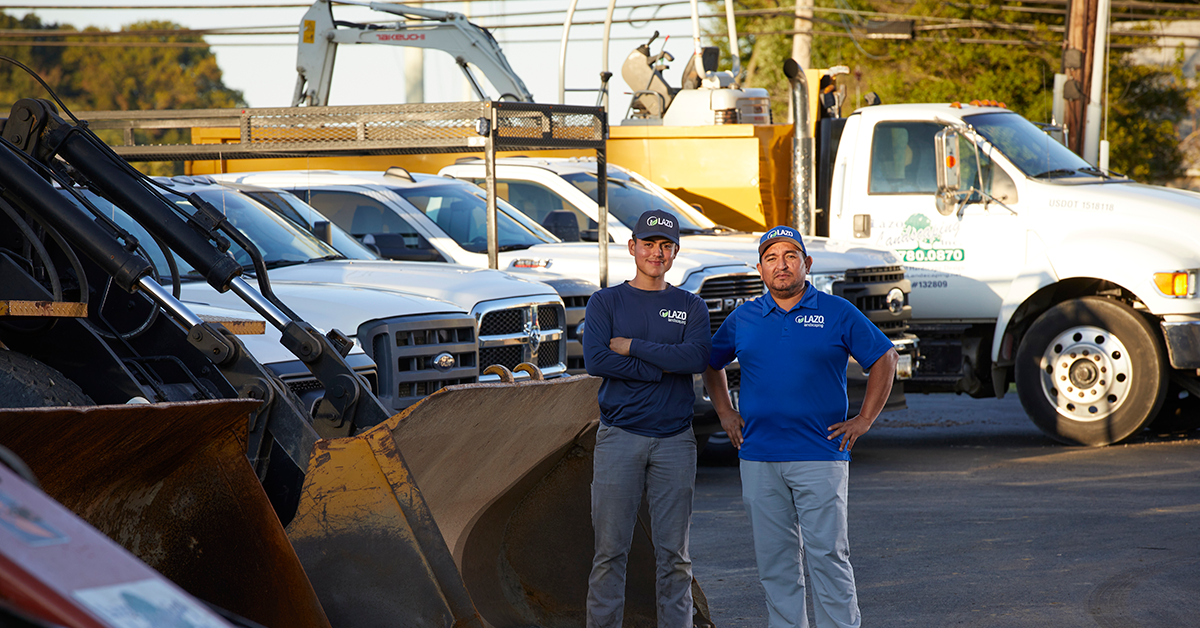 How to Choose Between Landscaping Services
If your yard or commercial property looks plain next to the property next door, or if everything is overgrown, or dying, you're right to consider looking for local landscaping services. Now, it's important to know the difference between lawn care companies and landscaping services. The lawn guys do just that – take care of the grass. Landscaping services do much more, including:
Planting trees, shrubs, flowers, ground cover
Landscape maintenance including pruning, trimming, and mulching
Install hardscape elements like walkways, patios, fire pits, and decks
Before you hire a residential or commercial landscaping company, it's important to ask yourself several questions about each company.
1. Do They Come Highly Recommended?
Ask friends, neighbors, and coworkers if they use a landscaping service, and if they do, why they chose the one they use. Also ask if they know of any companies to avoid. You can also Google landscaping services, and check out the Google reviews, Yelp reviews, and Facebook reviews. Do this for every business that was recommended. Read the reviews and the company's response (if any). Company responses show they care about their customers.
2. How Long Have They Been in Business?
Ideally, you want to hire a company that has been in business for at least 5 years. Companies who do a crummy job or have lousy customer service usually don't stay in business that long. In addition, make sure they are licensed, bonded, and insured. This protects you in the event that something bad happens while workers are on your property. You don't have that protection when you hire the local college kids to do the work.
3. Do They Design and Install Hardscape Elements?
When you're redoing your landscape design, or starting from scratch at a newly built home or business, you're likely going to want some hardscape elements. This can include retaining walls, patios, fire pits, decks, etc. Make sure the landscaping services the companies you're looking at can do those projects as well. Not all landscaping companies do.
It's much easier to hire one company that does it all, rather than dealing with two separate contractors. And even if you're not ready for hardscape elements just yet, you can work with a landscaping company that can do it for you in the future.
4. Do They Offer Competitive Pricing?
Beautiful landscaping doesn't have to cost an arm and a leg. But the cheapest company where it's one man and a truck might not be a good idea, even if he's the cheapest. Most landscape services will be happy to give you a free estimate for one-time design and installation, as well as ongoing landscape maintenance services. Those prices are not going to be on their website, because every landscaping project is different, so there is no one price fits all.
5. Do You Like the Look of Their Work?
Check out their website portfolio or gallery page. Do their projects make you wish your yard or property looked like that? Before and after photos are popular on social media. Check those out as well. Do they do the type of work you have in mind? Be prepared to show photos, or describe what you want in detail.
6. Do They Have Great Customer Service?
This is a tough one. If you've narrowed it down to a few landscaping services, your friends who recommended them, or their reviews will tell you a little bit about their customer service. But also pay attention when you start contacting companies for bids or estimates.
Does a live person answer the phone? If you fill out a contact form, does someone get back to you the same day, or first thing the next day if you submitted the form after hours? Is all communication prompt, polite, knowledgeable?
The Final Decision
When you narrow your list of possibilities down to 3-4 landscaping services, you will want to get on site estimates. Pay attention to how the company makes you feel as you consider question #6 above. When you meet with a representative in person, do you like them? Do they listen to what you want, and take notes?
Many companies will not give you an estimate on the spot, but will go back to the office to work out the numbers and then email then estimate. This is especially true for large projects. This is perfectly acceptable. If a company representative does give you an estimate right then and there, make sure it is in writing, and details everything you talked about.
Bottom line is, you want to hire a landscaping company that provides the services you need at a price you can afford, and you would like to work with them. You don't have to like them as a best friend, but you like the way the way they conduct business. Friendly, willing to listen, but ready to do the job without any babysitting.
Why Choose LAZO Landscaping Services
Simply put, we check all the boxes. We know you have a lot of choices between landscaping services in Maryland. We've been in business since 2003, and serve the landscaping needs of homeowners and businesses throughout the greater Baltimore area, including parts of southern Pennsylvania. Our goal is 100% customer satisfaction.
We are also full service. In addition to our landscaping services and hardscaping services, we provide tree services and inground pool installation! We would welcome the opportunity to provide you with a free estimate.