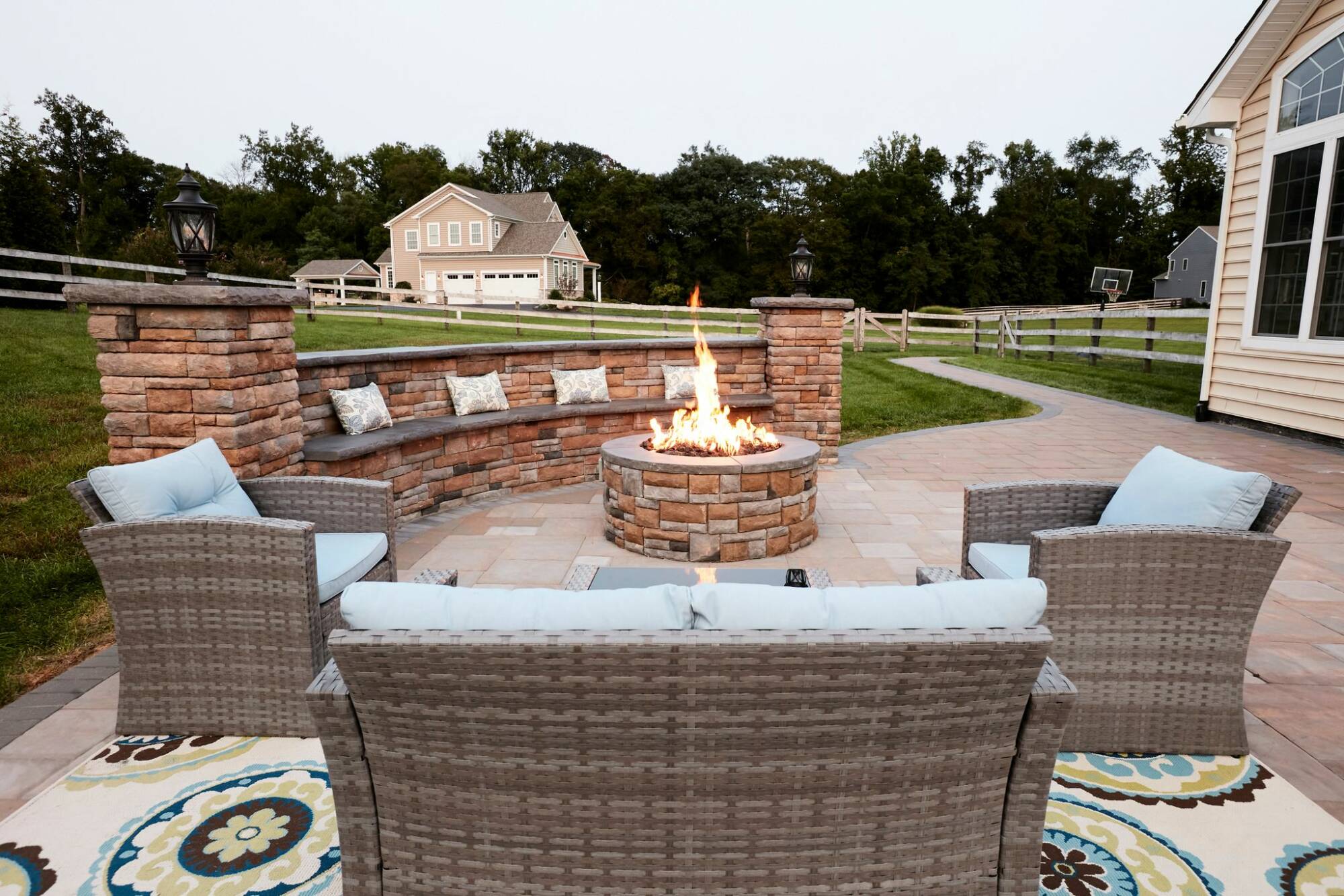 Warm Up Your Patio with a Fire Pit or Outdoor Fireplace
Just because the temperatures are dropping doesn't mean you have to abandon your patio. While winter officially starts December 21, there are plenty of days in Maryland where you can sit out on the patio in winter – especially if you bring the heat. Adding a built-in fire pit or outdoor fireplace to your outdoor living area expands the possibilities.
Maybe you want to watch the Bowl Games outside. Maybe you just want to soak up some vitamin D on a sunny day. By adding a fire element, you make both of those easier, and more enjoyable, to do.
Sound good? Let's take a look at some of the considerations.
Fire Pit or Outdoor Fireplace?
Deciding which element to install will depend on your tastes as well as your budget. You can also choose to install both, in different areas of your patio. In addition, you can install a fire pit in a seating area far away from your main patio if you wish, as long as you install a smaller patio to support it and help keep any sparks from landing in the grass.
Fire pits are easy to use, can be round, square or rectangular, and are generally less expensive to install than an outdoor fireplace.
On the other hand, a fireplace adds a level of sophistication and elegance, as well as warmth to your patio area. There are many fireplace designs we can use, but all include a chimney for ventilation. An added bonus – with an outdoor fireplace you can add something like a brick pizza oven. Because of the extra materials and labor involved, a fireplace will cost more to install.
Location, Location, Location
Whether you decide to install a built-in fire pit or outdoor fireplace (or both) you need to make sure you locate them in an appropriate area. A local hardscape contractor experienced with local codes can help with this.
In most situations, a fire element should be at least 6-10 feet away from your home or any combustible material such as trees, shrubs, or fences. In addition, you want to ensure the best location to avoid excess smoke caused by the prevailing winds. 
Lastly, if you are part of a homeowner's association (HOA) you will want to carefully review any restrictions they have on fire pits or fireplaces. Doing this before installation will save you headaches.
What Fuel to Burn?
Traditionally, both fire pits and outdoor fireplaces burn wood. But it is possible, if you have a natural gas line on your property, to run the gas line to the fireplace and hook it up to a gas insert so that you have an outdoor gas fireplace. For fire pits, again, you could hook it into a natural gas line. But you can also fuel a gas fire pit with propane. The key is in concealing the propane tank. The popular tabletop fire pit setup does this well. 
If you choose to go with gas, it will be convenient, with a simple on/off switch to control the fire element. You also won't have to worry about smoke or ash. One thing to keep in mind though is gas doesn't burn as hot as wood, so the unit will not put off as much heat.
If you love the smell of a wood fire and don't mind the cleanup involved and waiting for the fire to die down, then wood is the right fuel for you.
Get a Better Outdoor Experience with Lazo
Our experienced team of hardscape contractors are ready to go to work on your patio, fire pit, or outdoor fireplace (or both)! We can design and build you a custom fire pit or fireplace, using natural stone, brick, or fire-rated interlocking pavers from top manufacturers.
Get a free estimate by filling out the contact form, or calling 866-568-6264. Once you've decided to hire us, we can generally have the installation completed within 30 days. We work with homeowners in Baltimore County and City, Anne Arundel County, Carroll County, Harford County, Cecil County, Frederick County, Montgomery County, and Prince George's County in Maryland, as well as southern York and Lancaster counties in Pennsylvania.