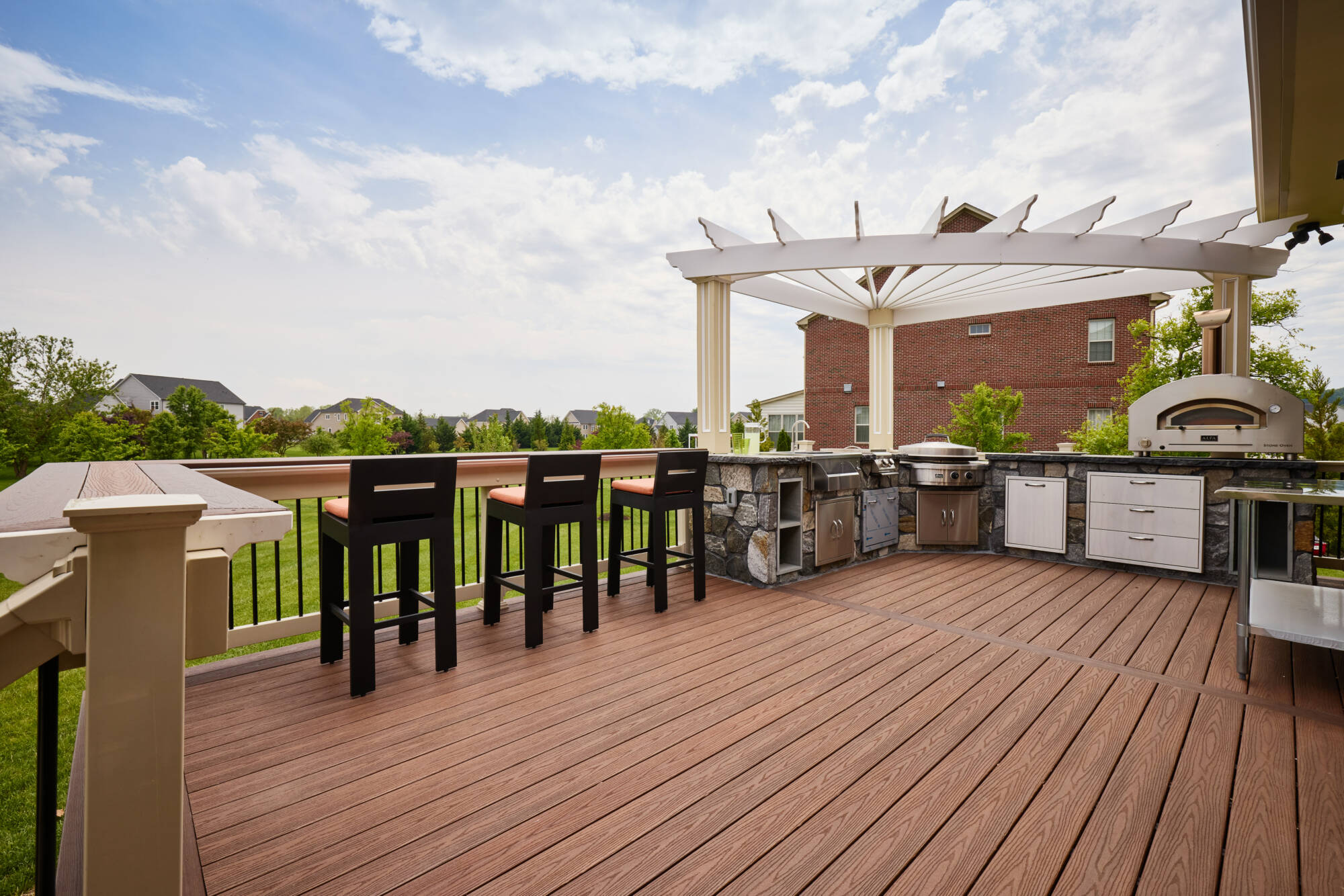 Enhance Your Outdoor Living Space with a Deck
It may be December, but it's never too early to start planning outdoor living projects you can enjoy next spring and summer. One of the easiest projects to install when it's cold outside is a new deck. Here at Lazo, we design and build decks using high-quality materials including:
Composite decking
Brazilian wood
Some popular deck design ideas include an elevated deck with stairs down to your yard, with a patio underneath the deck. Another thing you can do with an elevated deck is create a storage shed underneath to house your lawn and garden equipment as well as pool equipment.
Most of our clients have us build the deck with an entrance off the kitchen, but we can also build decks that allow you entry to the outdoors from the primary bedroom. The possibilities are endless.
Consider a Covered Deck
A covered deck or partially covered deck allows you to sit outside and be shaded from the sun and protected from the rain. It also increases your outdoor dining and outdoor entertaining options.
The deck cover can be built in, such as with a roof that attaches to the house. You can also build a pavilion or pergola on your deck. These options can be wired to allow you to install overhead lighting and ceiling fans. You can even hang a porch swing!
And the last option is to get a retractable awning that you unwind when you want it and retract when you don't.
Don't Wait Until Spring
If you want a new deck to enjoy as soon as the weather warms up, start planning now. That's because deck builders like Lazo can design and install your deck during the winter months, weather permitting. Construction might have to be in stages if there's a big snow or frigid temperatures.
Contractors aren't as busy during the winter months, and there isn't the high demand for decking products like there is in the summer, so your project may actually end up costing less in the winter than it would in the height of summer.
Get a Better Outdoor Experience with Lazo
If you're inspired to replace an old deck or build a brand-new one, we can help. Check out our Gallery page for examples of our work. If you like what you see, we would be happy to schedule a design consultation before the end of the year. We can build your deck during the winter months, weather permitting.
We listen to what you want to accomplish, and we give you options to achieve your dreams. We are now booking projects for 2023. We work with homeowners throughout central Maryland. Get a free estimate for your project by filling out the contact form or calling 866-568-6268.