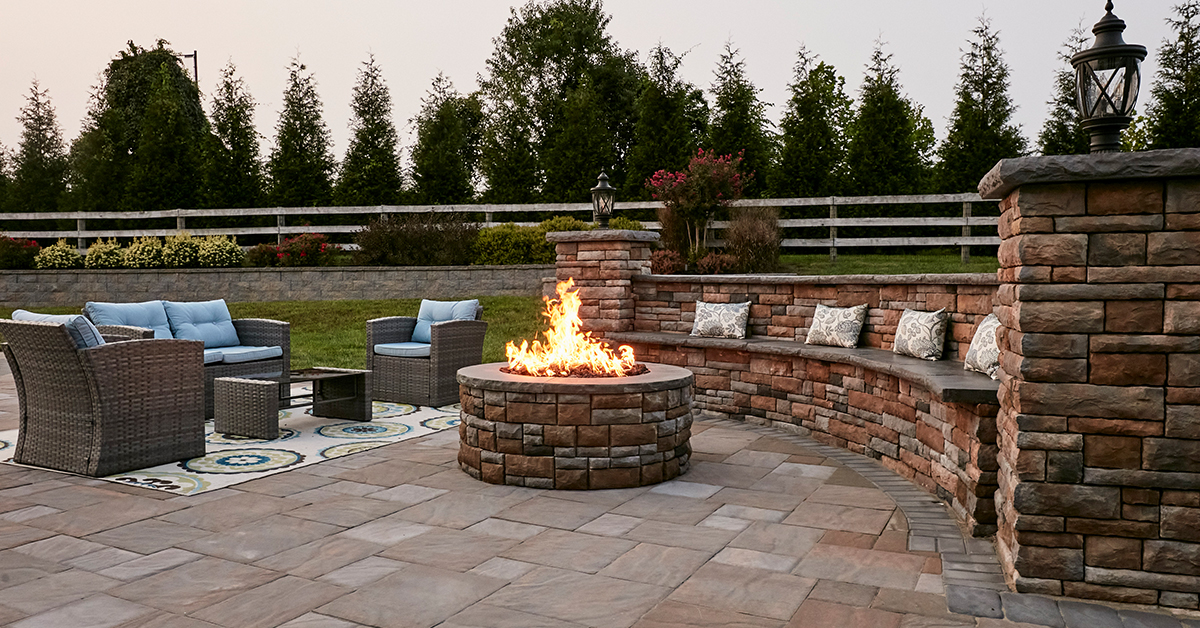 Fire Pit Ideas You'll Love
Fire pits continue to be one of the biggest outdoor living trends. And for good reason. A patio fire pit or backyard fire pit is a natural gathering space, and the warmth of the fire allows you and your family to stay outside longer on the cool evenings of early spring.
When we talk about fire pits, we mean the built-in, stationary kind. Not some metal thing that you move from place to place. These beauties are made with natural stone, brick, landscape pavers, or a combination. Below our some of our favorie fire pit ideas.
Fire Pit Table
A fire pit table, also known as a fire table, is very trendy right now. Generally rectangular, a fire pit table utilizes natural gas or propane gas for the fire. That means no wood smoke, no need to feed the fire, and no ash to clean up.
They can be built at varying heights, depending on your seating area.
Fire Pit Patio
More and more homeowners are asking for a multi-level fire pit patio where the fire pit area becomes its own outdoor room. It can be a step or two below your main patio, or set off as a backyard fire pit with its own patio destination further from the rest of your outdoor living area. A stepping stone path or other walkway can lead from one area to the other.
Built-In Seating
Built in seating around your fire pit is another great idea.   This can be a simple retaining wall, or a retaining wall with a back to create a bench. You never have to drag patio chairs from one area to another. Simply add some cushions and you're good to go! Built-in seating also allows you to accommodate a larger gathering of family and friends more easily.
Professional Fire Pit Installation
If you're a DIY expert, you may be able to install your own fire pit. But if you want a professional look and a guarantee of workmanship, we suggest you go for professional fire pit installation. It will save you time and aggravation, and the quality of installation will be better than you could do yourself.
Add a Fire Pit from Lazo for a Better Outdoor Experience
At Lazo Landscaping, we've been designing and installing permanent fire pits for years. We use only high-quality materials, and can coordinate the look and feel of your fire pit with the rest of your outdoor living area. Let us turn your fire pit dreams into reality.
Spring is a great time to add a fire pit. Call our team at 866-288-click the button and fill out the form to get a free estimate.