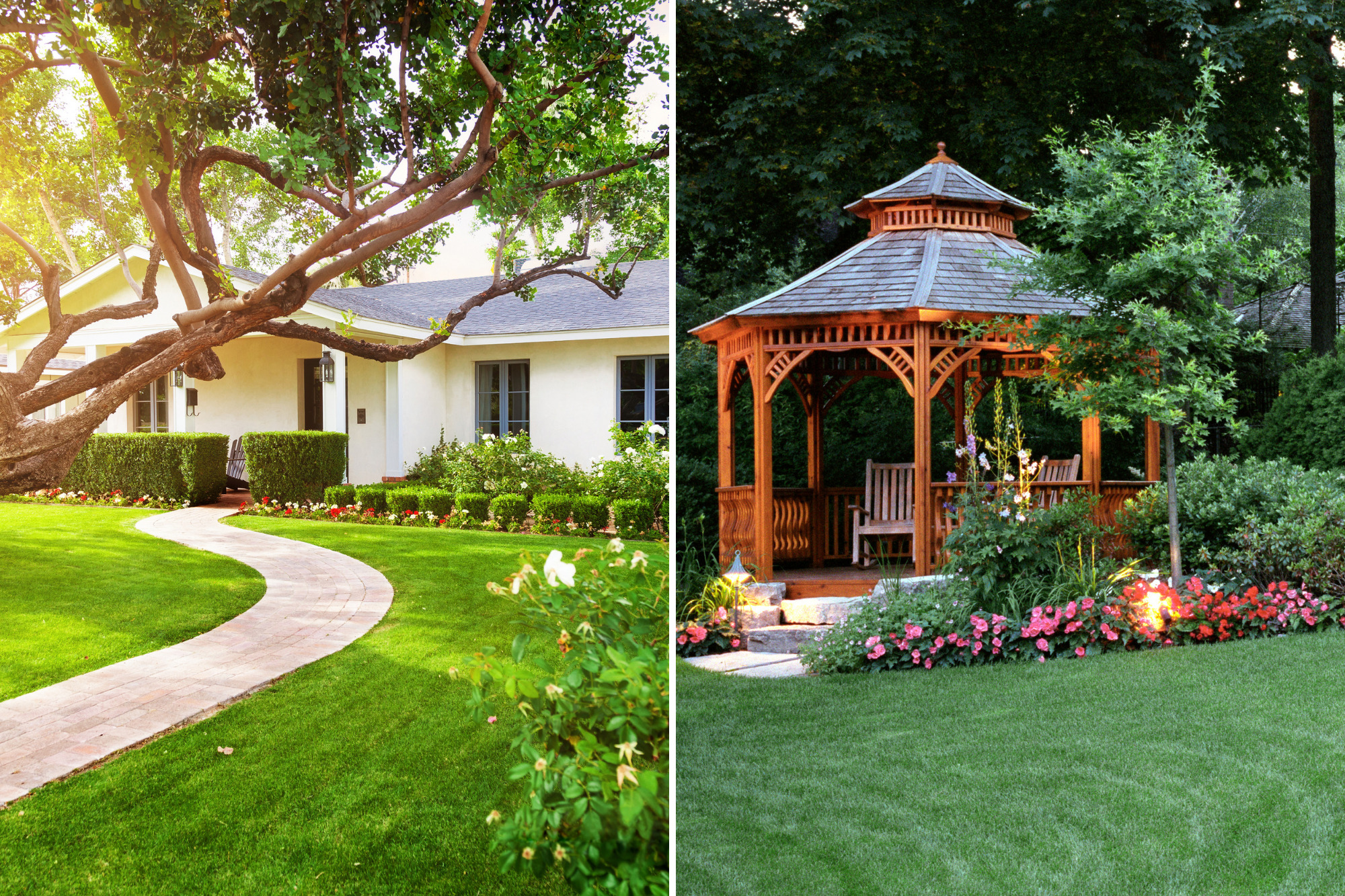 Front Yard vs Backyard Landscaping: Ideas You Can Use
Pride of ownership has most homeowners putting a lot of time and effort into creating a beautiful front yard that exudes curb appeal. You want everyone driving by to notice your yard and your home. Your backyard, however, is only something that you and your friends see. Think of front yard vs backyard landscaping like the mullet haircut – business in the front, party in the back. 
Today, we've pulled together some front yard landscaping ideas and backyard landscaping ideas and tips. But don't make the mistake of thinking the two are separate things. You want certain elements to tie the front and backyard landscaping together. Your driveway, walkways, and patio could all use the same pavers or coordinating pavers, for example. 
From there, the landscaping ideas you choose will depend on your goals for the space. Let's start with the front yard.
Front Yard Landscaping Goals
For most people, the goal of front yard landscaping is to enhance curb appeal. You want your yard to look great to anyone who passes by or arrives – from guests to prospective buyers if you're putting your home up for sale. You want your front yard to look great. There are several ways to accomplish this.
Keep It Well-Groomed
If you have a lot of turfgrass, keep it neatly mowed and the line next to the curb neatly trimmed. Keep your garden beds weed-free and well-mulched. Add color with each season by thoughtfully choosing perennials and annuals. Keep trees and shrubs from getting overgrown.
Express Yourself
You can use your front yard to express your personality. If you're a nature lover, add w wildflower garden, butterfly house, and birdhouses. If you're more of a formal person, your front yard landscaping can reflect that, with well-manicured shrubs. Unless you love to garden and work in the yard, strive to make your front yard landscaping low-maintenance. It will give you more time to enjoy your backyard.
Add Landscape Lighting
Enhance curb appeal and safety at night by adding landscape lighting to your front yard. Uplights can highlight architectural elements of your home, while lights in the treetops can create a moonlight effect, And, of course, you will want pathway lighting and exterior lighting to make it easy to find your front door!
Backyard Landscaping Goals
Now we move to the back of the house. Backyard landscaping goals are all about you, not the neighbors or people driving by. Your backyard is where you hang out and relax, grill out, entertain, and where the kids play. You want to create a private space that has multiple functions.
Make It an Extension of Your Home
Your backyard should be an extension of your home. That's how the phrase "outdoor living space" was born. People wanted a place to enjoy the outdoors and expand on their living space. Today, homeowners do this by adding hardscaping elements to their backyard landscaping.
By this, we mean adding a deck or patio, or even an outdoor kitchen. A lot of our clients also like to add a fire element such as a fire pit or outdoor fireplace. And an even larger growing number are planning to add an inground pool to their backyard landscape design. What you decide to add is a personal choice, based on what works for you and your family.
Add Privacy
The thing about hanging out in your backyard is your neighbors may be doing the same thing, at the same time. Do you really want to look across your yard and lock eyes with a neighbor you're not especially fond of? This is where you want to add privacy as part of your backyard landscaping.
You can do this in several ways, including:
Add a privacy fence around your backyard.
Plant a privacy hedge or screening trees such as arborvitae.
Add a manmade privacy screen.
Hang one or more curtains that you close when you are outside on the patio.
And don't forget that a neighbor may be able to see down into your yard from an upper window. This is where an awning of patio umbrellas can add privacy.
Create Outdoor Living Spaces
Your backyard landscaping is multifunctional. The patio is an extension of your home and is meant for relaxing and entertaining. The outdoor kitchen is for cooking as well as entertaining if you add a home bar. The inground pool area is for fun and exercise. The flower beds are for aesthetic enjoyment. The grassy areas are for the kids to play and the dog to do its business.
You can delineate each of these areas by separating them with paver borders and walkways, or pathways made with stepping stones and pea gravel. Arrange furniture on the patio to create an outdoor living room as well as an outdoor dining room.
Light It Up
Just like your front yard, you're going to want to add outdoor lighting here. Your backyard is a great place for solar landscape lighting, to add a warm glow to your garden beds. Add string lights near a seating or dining area. If you have a covered outdoor kitchen, your contractor can hang a ceiling fan with lights, pendant lighting, and even a chandelier above the outdoor dining area.
You decide whether you're going for an elegant look or a fun and fabulous look. Express yourself. And remember. Any upgrades you make to your front yard landscaping or your backyard landscaping will add to your enjoyment, as well as the eventual resale value of your home.
RELATED READING
How to Select Flowering Plants for Your Landscape Design
How to Choose the Right Pavers for Your Patio and Walkways
Landscaping Terms You Need to Know
Get a Better Outdoor Experience with Lazo
Whatever your landscaping and hardscaping needs are, Lazo can turn your ideas into reality, Both your front yard and your backyard can be beautiful and functional. To get started on your better outdoor experience, fill out the contact form to get an estimate. You can also call us during regular business hours at 866.568.6264.
We work with homeowners throughout Central Maryland as well as South-Central Pennsylvania.