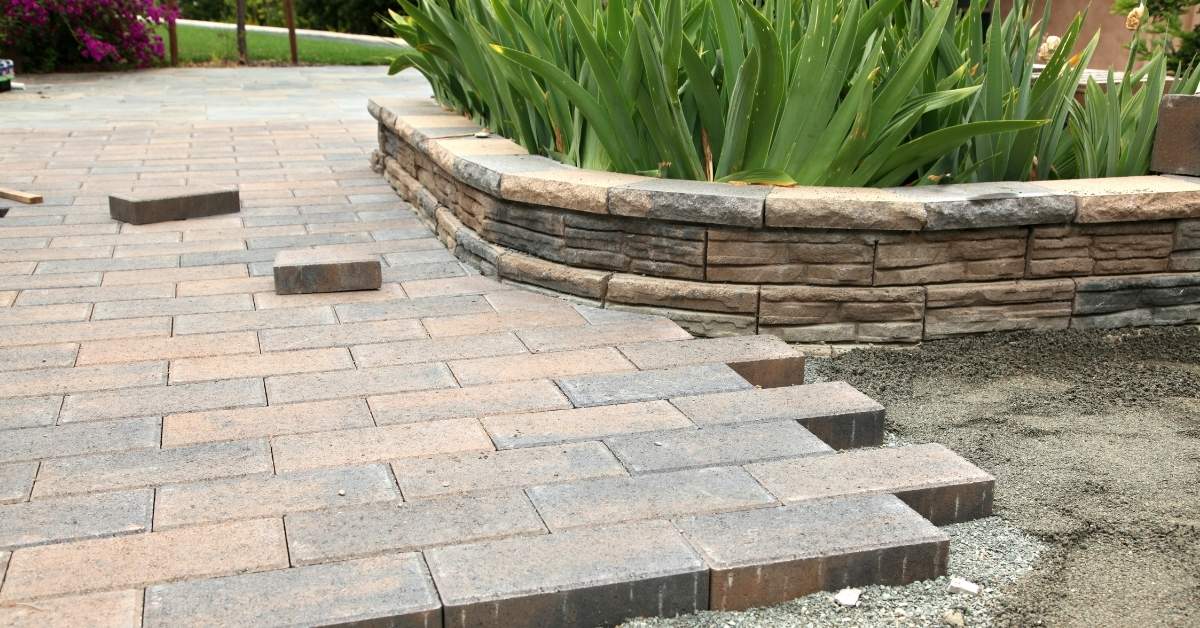 Natural Stone vs Concrete Pavers: Which One Is Right for Your Project?
When it comes to building the best patio for you and your family, there's a lot to take into consideration. You have to decide the location, size, and shape of your patio, as well as any walkways leading to it. Then comes the BIG decision: what material to use. Today, we're focusing on natural stone vs. concrete pavers.
That's because at Lazo, we only install paver patios and natural stone patios, or custom patios, stairs, and walkways using both materials. Not only do we believe these products are superior and will deliver enjoyment for years to come, but you (and we) can also coordinate your paver patio with your retaining walls, outdoor kitchen, outdoor fireplace, etc.
But how do you decide between natural stone and concrete pavers? Well, it's a personal choice that must take into account your tastes and budget. Let's take a look at the pros and cons of each material.
Natural Stone Pavers
Natural stone pavers have several pros and cons to take into consideration.
Pros
Each paver or is unique. This ensures a high-end look. Natural stone pavers start out as larger stones or boulders dug out or quarried from the earth. The stone is then cut into slabs and pavers.
Cons
There are several cons associated with natural stone, that may not make it suitable for your project. Those include:
Higher Price. Because of the labor and expense involved with quarrying and cutting, natural stone pavers and slabs are more expensive than concrete pavers.
Irregular Surface. Because they are natural rather than man-made, stone pavers may not be as flat or as smooth as concrete pavers. This makes them unsuitable to be sliding dining chairs back and forth on and may create a hazard in an outdoor kitchen area.
Limited Color Options. This may sound strange, but natural stone comes in a limited range of colors. This may not be a con depending on what color you want.
Concrete Pavers
Now let's move on to the pros and cons of concrete pavers as compared to natural stone.
Pros
Lower Price. This is a top consideration for some of our clients, but we think the options available may be of bigger importance, because you can create a custom look.
Options Galore. You can get concrete pavers that look like just about any type of stone, in lots of colors, shapes, and sizes. There are pavers that look like slate, cobblestone, brick, porcelain, and more.
Uniform Size. The uniform size of manufactured pavers allows you to create intricate repeating patterns, such as herringbone, checkerboard, basketweave, and more.
Smoother Surface. Concrete pavers are more level and smoother than many natural stone pavers. This means your patio furniture won't wobble, and there is less of a trip hazard.
Cons
There is really only one con when it comes to concrete pavers – they're not natural stone.
So your choice ultimately comes down to whether natural stone is worth the extra cost. In many situations, you can add natural stone borders to a concrete paver walkway or patio, giving you the look of both.
Our Suppliers
We get our patio and walkway materials from several suppliers, including:
Local suppliers of natural stone
Not only do we believe these products are superior and will deliver enjoyment for years to come, but you (and we) can also coordinate your paver patio with your retaining walls, outdoor kitchen, outdoor fireplace, etc.
Why We Don't Install Concrete Slab Patios
At Lazo, our goal is to provide our customers with a better outdoor experience. And we don't believe that slab concrete fulfills that promise. That's because concrete, whether a plain concrete slab or stamped concrete, is subject to cracking with the freeze-thaw cycle that Maryland winters bring.
It's not a question of if it will crack, but when.  By contrast, concrete pavers and natural stone leave available space for the earth to freeze and thaw, expand and contract, without causing a cracking problem.
Get a Better Outdoor Experience with Lazo
We schedule long into the fall months. So, if you're looking to replace an existing patio or add a patio to a new home, we can help. We work with homeowners in the greater Baltimore area to deliver beautiful and affordable patios and other outdoor living features. Check out our Gallery to see examples of our work.
Fill out the contact form or call us at 866-568-6264 to set up a free estimate.