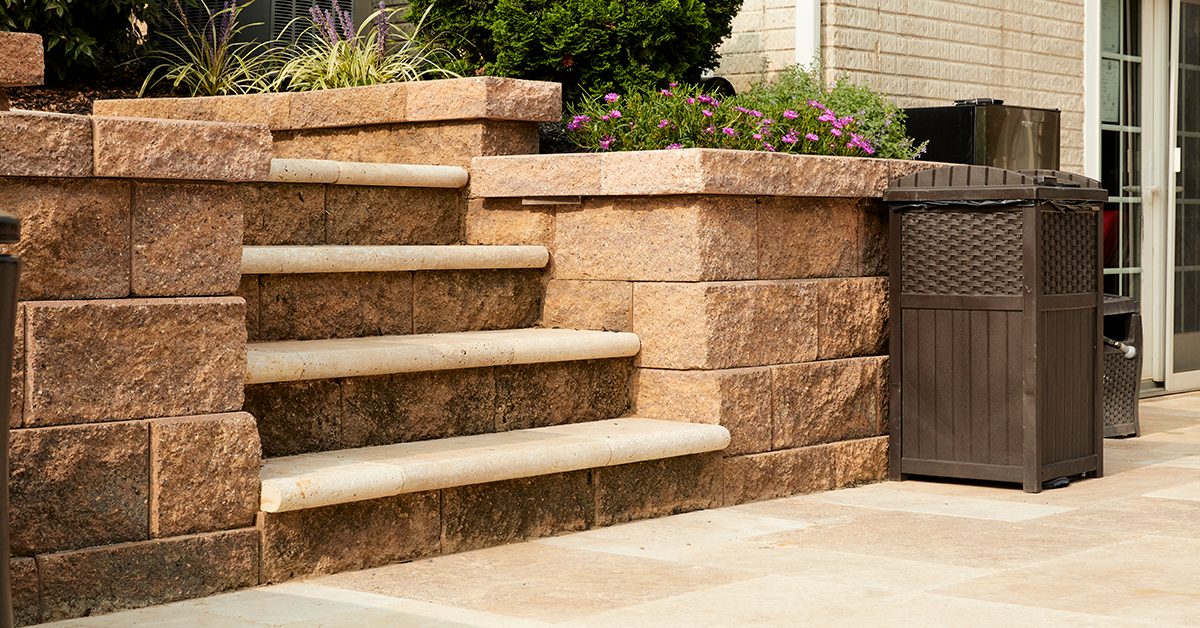 What Is a Retaining Wall, and Do You Need One?
Just what is a retaining wall, and do you need one? You've probably seen one (or several), even if you didn't know what they are called. You know those big walls of concrete or sound barrier walls you see on the side of the interstate where there is a hillside? Those are retaining walls. And maybe you have a neighbor or friend whose back yard is at the bottom of a hill. They may have a smaller backyard retaining wall.
Simply put, a retaining wall is a structure built to retain soil behind it, and keep the soil from moving. As a result, you will commonly see one at the bottom of a slope. But it can serve a dual purpose – it can provide privacy or additional seating. This is often the case with a patio retaining wall or pool retaining wall.
Do You Need a Retaining Wall?
You may WANT a retaining wall near your pool or patio for the appearance and extra seating. You might also want a low wall around some of your garden beds, for aesthetic reasons. But you may NEED a retaining wall if:
Your Yard is One Big Slope
By grading and putting in one or more walls, you can create a terraced effect in your slope of a yard. This gives you flat spaces you can use for gardens, a play area, a seating area, and more. Humans have used retaining walls to create terraced hillsides for thousands of years.
You Have Erosion Every Time It Rains
If you have a slope in your yard or you're at the bottom of a hill, you may notice that it appears the ground is moving. That's because it is. Water and heavy rains can shift soil of all types – completely washing it away, or shifting it downhill. To stop the soil movement, install a retaining wall. It will decrease the angle of the slope, and hold back soil.
Erosion is Threatening Your Home's Foundation
If the soil around the downhill side of your foundation is washing away, or eroding soil from a nearby slope or hillside is flowing into the uphill side of your foundation, a retaining wall can help stop the erosion.
Types of Retaining Wall Materials
There are many different materials to use in construction, each with their pros and cons. Wall design options include:
Wood retaining wall
Concrete retaining wall
Interlocking retaining wall blocks (Retaining wall pavers)
Stone retaining wall
At Lazo, we are in the business of designing and installing retaining walls that are not only functional, but beautiful. And we build them to last, and meet or exceed building code. That being said, we do not recommend building one out of wood, because it will deteriorate. And a poured concrete wall, while long lasting, can be just plain ugly, unless you pay extra to attach a veneer of some sort.
We like to design and install retaining walls constructed of interlocking retaining wall blocks. They come in a variety of shapes, colors, and facing textures. And once installed, they are maintenance free. This type of wall is ideal for when you already have a paver patio or outdoor living area and you would like the wall to coordinate.
We also design and install natural stone retaining walls. These will cost more, both because of the cost of materials, and the additional labor required. But many people consider a natural stone walls to be the most attractive option.
Retaining Wall Installation
Once you've approved a design and materials list, the process of retaining wall installation begins. We take great care to ensure your wall will last for years to come. Some of the steps include:
Dig a trench
Create a base with landscape rock (gravel)
Lay the first level of blocks or stone
Build each successive level
Finish the retaining wall with block caps
Cover the gravel between the wall and your landscaping with topsoil or sod
Clean up
We can install a retaining wall in one day, in most cases. If it's part of a larger project, the timing will change. Check out our Gallery for some examples of our work.
We Listen. We Give You Options. We Deliver.
If you're having issues with erosion on your property, one or more retaining walls can help. Reach out to Lazo Landscaping to get a free estimate from retaining wall contractors you can trust. Our team will listen to you, evaluate the situation, and give you several design options to choose from. We look forward to hearing from you!