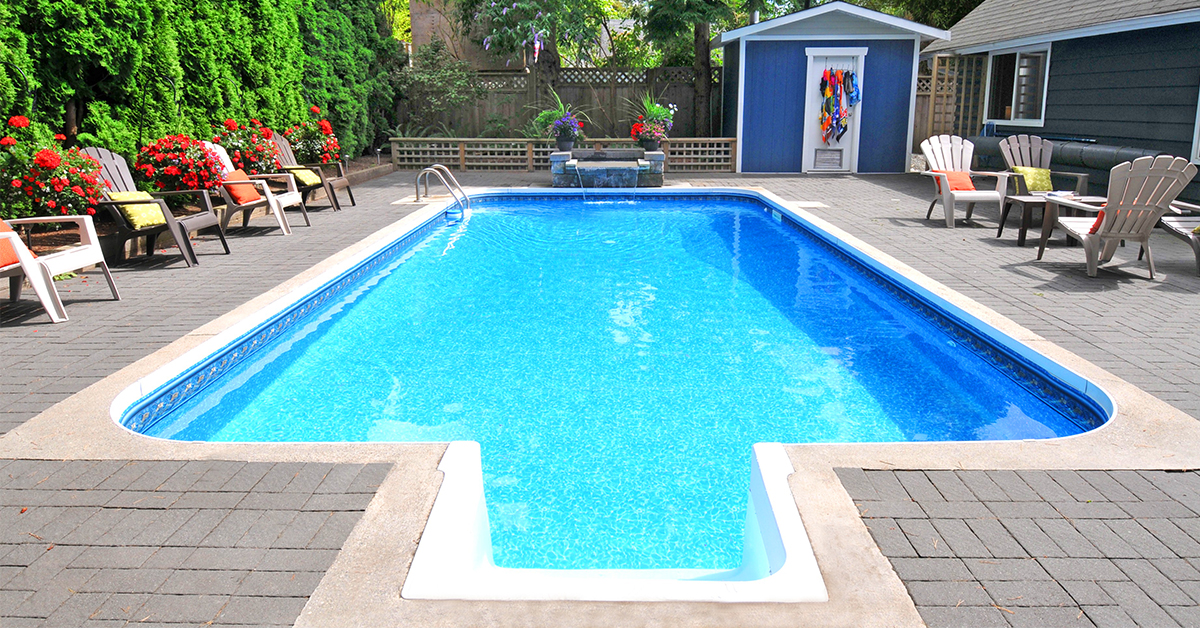 Our Top 6 Reasons to Choose a Fiberglass Pool
More and more Maryland families are choosing to add an inground pool to their backyards. And it's easy to understand why. A swimming pool is a great place to have fun with family and friends, as well as get some exercise, or get a tan.
But when you're deciding on an inground pool, you have several types to choose from. Of course, since we are fiberglass pool installers, we will focus today on the top reasons to choose a fiberglass pool over your other options.
1.    Quick Installation
The speed of installation is one of the biggest reasons a many people opt for a fiberglass pool. Once the permitting process is complete, the ground preparation and installation of your new fiberglass pool can be completed in 3 weeks or less. And once the pool is in, you can swim within a few days!
Contrast that with a concrete pool, where the installation can take months and the time can increase if there's a lot of rain.
2.    Lower Upfront and Lifetime Costs
When compared with other inground pools, a fiberglass pool is going to come with a lower upfront cost, mainly due to reduced labor and materials costs when compared with a gunite pool. In addition, because of its non-porous surface, a fiberglass pool will use fewer chemicals than its concrete counterpart. That means less work for you!
3.    Beauty and Durability
Fiberglass pools come in a wide variety of shapes and sizes, from classic rectangular to freeform. With splash pads, steps, ledge seating, spas, and other options, you're sure to find a beautiful option.
But with beauty comes strength. Fiberglass won't crack like concrete, and there is no vinyl liner to tear, puncture, or bubble.
4.    Smooth, Non-Slip Finish
If you've ever skinned your foot on the bottom of a concrete pool or snagged your swimsuit on the concrete, you'll like the smooth, non-slip finish of a fiberglass pool. The gel coat finish protects your feet and your swimsuit.
5.    Pet Friendly
With multiple entry and exit points such as stairs and splash pads, it's easy for your dog to get in and out of the pool without assistance. In addition, because of the toughness of the fiberglass, your dog's nails can't puncture anything, like they might a vinyl liner. And the smooth finish of the pool is easier on your dog's feet, just like it is yours.
6.    Lifetime Warranty
You may not think of a warranty as a reason to choose fiberglass over another inground pool, but it's a compelling reason, and one that protects your investment. All of our pools come with a lifetime structural warranty, and a 10-year warranty on the gelcoat. Compare that to a concrete pool, where a warranty may only last a few years.
Lazo Pools: Built to Last
If 2021 is the year to get a fiberglass pool to complete your outdoor oasis, be sure to get several estimates, and to research pool installation companies along with the pool manufacturers. When you're getting estimates, make sure a company can do everything you need them to do.
Lazo Pools is a division of Lazo Landscaping, so unlike some swimming pool contractors, we won't leave you with a pile of dirt or bare soil. We can regrade your yard around your new pool and install any landscaping features you want, including shrubs, flowers, trees, and more.
And of course, we can put in the pool decking of your choice, Popular options include concrete and travertine. We install Imagine™ fiberglass pools for homeowners in Baltimore City and County, Harford County, Cecil County, Carroll County, Frederick County, Montgomery County, Howard County, Prince Georges County, and Anne Arundel County.