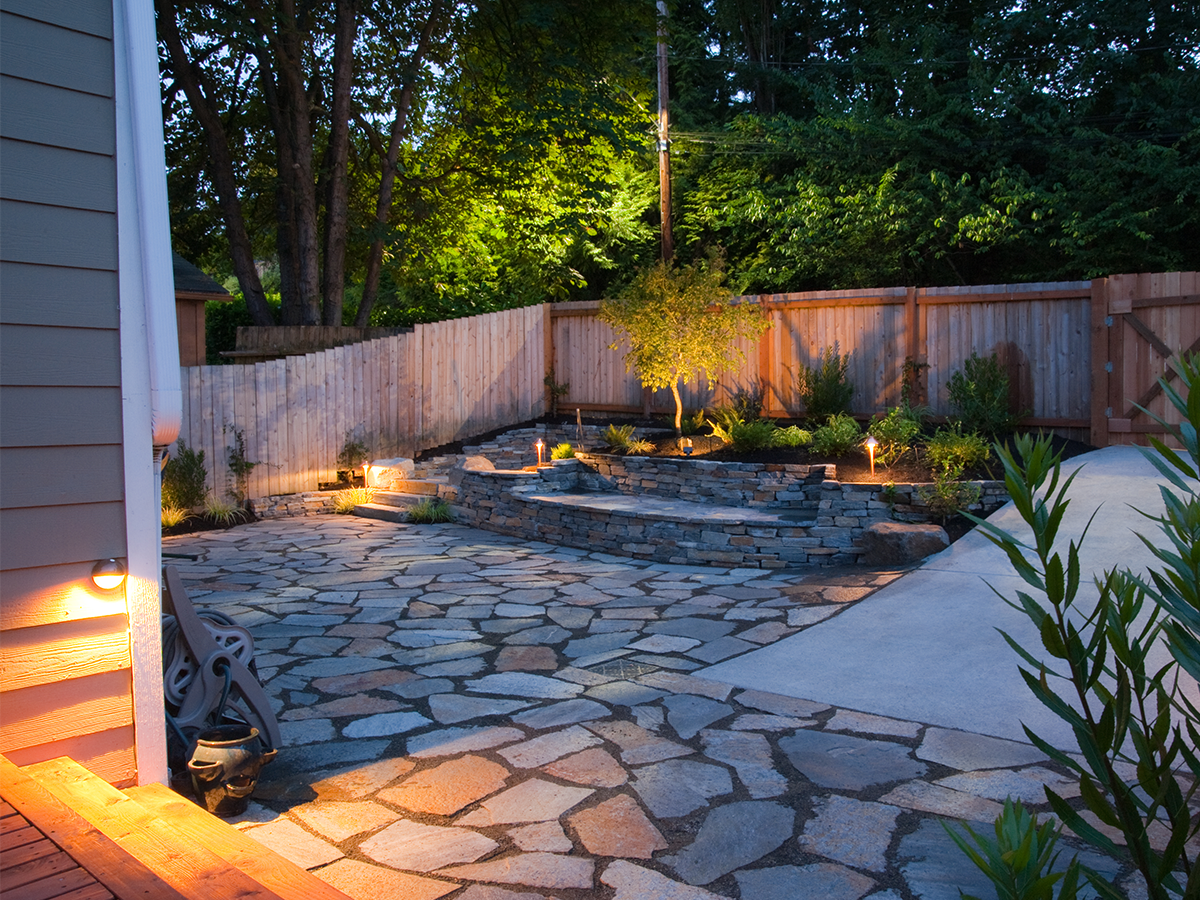 Outdoor Lighting Ideas to Enhance Your Property
Like the icing on a cake, outdoor lighting adds the finishing touch to your outdoor living space. While you may be able to install some solar lights on ground stakes, or hang string lights, you will probably want to hire professionals to install your outdoor lighting and landscape lighting. That's because electrical work is nothing to mess around with.
Just Google the phrase outdoor lighting ideas, and you'll see a ton of images you can use for inspiration. The best time to install recessed lighting is at the time of construction of your patio or retaining wall. Other outdoor lighting fixtures like sconces, lanterns, and security lights can be installed at any time. And of course, the time to install an outdoor fan with a light is when you build your covered outdoor kitchen!
Outdoor Lighting and Landscape Lighting Go Hand in Hand
Some people use the terms interchangeably, but they're not exactly the same. Landscape lighting refers to the use of lighting to enhance gardens, specimen trees, fountains, and other landscape elements.
Outdoor lighting is a broader term that can include landscape lighting, but also includes:
Path lighting
Patio lights
Deck lights
Outdoor kitchen lighting
Outdoor stair lights
Pool area lighting
Exterior home lighting
Security lighting
For a cohesive look, you may want to install all of your exterior lighting at one time, or at least use the same product lines. This doesn't really apply to string lights and rope lights of course, which you can change out just about any time you want.
Outdoor Lighting Ideas for Every Taste and Budget
There are outdoor lighting ideas for every taste and budget. The idea is to provide a warm light and inviting feel to your outdoor living space in the evening hours. Reserve the brighter lights for security lighting and motion sensor lights.
Your choice of styles and outdoor lighting fixtures is nearly limitless. Our team can help you by putting together a design plan and showing you some of your options. We mainly install outdoor lighting from:
Alliance
Pro-Trade
Allen + Roth
Most lights that we install today are outdoor LED lights or low voltage lighting. They offer the degree of lighting you need while offering energy efficiency and longevity. Some LED bulbs will last up to 50,000 hours!
Get a FREE Estimate on Your Outdoor Lighting Project
At Lazo, we deliver a Better Outdoor Experience in a number of ways. If you're looking to turn your outdoor lighting ideas into reality, we can help. We work with homeowners throughout Central Maryland and south-central Pennsylvania.
Outdoor lighting is frequently installed at the same time as a larger project, such as a patio project or landscaping project. Just let us know what you have in mind when you contact us to get your free estimate.