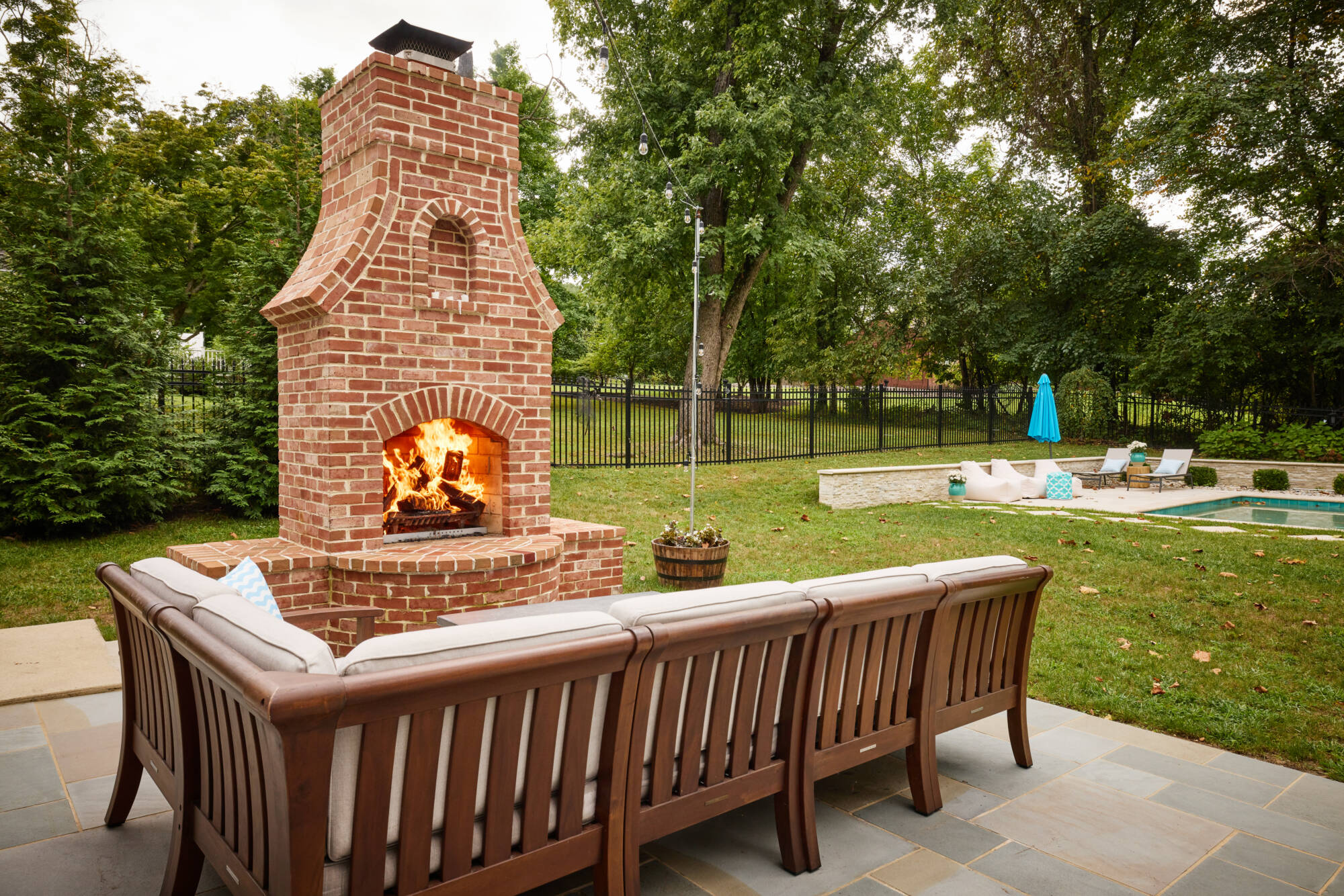 Outdoor Fireplaces, Fire Pits, and More: What Your Outdoor Living Space Needs This Fall
The chill of fall is here. If you love sweater weather and fall colors, you'll love having an outdoor fireplace or fire pit. These fire and heat features allow you to spend time outdoors comfortably when the temperature drops. Add in some hot cocoa, s'mores, and maybe an adult beverage, and you're set!
Today we're going to discuss some of the benefits of outdoor fireplaces and fire pits to help you decide which is right for you.
Benefits of an Outdoor Fireplace
We're going to focus on wood-burning fireplaces, as they are the most common in our part of Maryland. You can, however, choose a gas fireplace for your outdoor living area, if you pay to have a natural gas line extended to your patio area.
1.      An Outdoor Fireplace Adds Ambiance and Warmth
The main benefit of an outdoor fireplace is that it adds ambiance and warmth. The look and sounds from a crackling fire are soothing while the heat brings comfort. Most people love to watch the dancing flames of a fire.
2.      It Extends the Outdoor Living Season
Instead of moving indoors when it gets chilly, an outdoor fireplace allows you to stay out later at night, as well as host tailgating parties outside further into the fall and even winter season.
3.      You Add an Elegant or Rustic Focal Point
An outdoor fireplace is more than functional, however. It also provides an elegant or rustic focal point for your patio. Much like your indoor fireplace can be the focal point, an outdoor fireplace acts provides a natural gathering spot. It can also help frame your outdoor living space, guiding placement of outdoor furniture.
4.      It Adds Value to Your Home
Any high-end investment you make in your outdoor living space is going to add value to your home. If you should ever decide to move, an outdoor fireplace will be an attractive feature for homebuyers. As long as you have it professionally installed, you should recoup part of your investment.
5.      It Adds Another Cooking Option
An outdoor fireplace can do more than warm up a crowd. You can also roast, toast, and grill a variety of food items, from meat to marshmallows.
6.      The Chimney Vents Smoke Upwards
Another great thing about an outdoor fireplace is that the smoke from a wood-burning fire goes up the chimney, rather than blowing towards you every time the wind shifts. This shifting smoke can be a problem with some fire pits.
Benefits of a Built-In Fire Pit
We'll focus on built-in fire pits, because that's what we provide.
1.      A Fire Pit Provides Year-Round Ambiance and Warmth
Since a fire pit is smaller and doesn't put out as much heat as an outdoor fireplace, you can use it all summer long and well into the fall and winter. In summer, it helps keep the bugs away and provides the perfect spot to toast marshmallows, play a game, or have a deep conversation. In the fall and winter, you can build a bigger fire for more warmth.
2.      You Create a Natural Gathering Area
People are drawn to fire. Light your fire pit and your kids and guests will wander over. When you build a fire pit, you can also add built-in seating with a retaining wall. That way if the chairs are all full, there is always space for one more.
3.      You Have a Choice of Fuel
You can choose a wood-burning fire pit, which is the most common kind. If you don't like smoke getting in your eyes, you can opt for a smokeless fire pit, which reduces the smoke. You can also opt for a propane gas-burning fire pit. With a gas fire pit, you just turn it on and off, without needing to worry about getting a fire going or waiting for it to burn out. The popular fire pit table is an example of a fire pit using propane gas.
4.     It's the Perfect Spot for Toasting Marshmallows and Roasting Hot Dogs
Host a backyard campout for the kids, and they can roast their hotdogs and toast the marshmallows just like if they were at a campground. Set up a tent in the backyard, and tell ghost stories as you gather round the fire pit.
Add a grill grate and you can cook a full meal over the open fire.
5.     A Built-In Fire Pit Can Add Value to Your Home
Unlike a portable fire pit, a built-in fire pit adds value to your home. If you decide to sell, the fire pit on your patio will increase the value of your outdoor living space. Potential buyers will instantly see themselves gathered around the fire pit, sharing stories and enjoying a cool summer night.
6.     Fire Pits Are More Affordable Than an Outdoor Fireplace
If you want a fire feature but an outdoor fireplace just isn't in the budget, a built-in fire pit brings you nearly all of the same benefits. They're also perfect for smaller patios and yards that don't have the room for a fireplace. Round, square, or rectangular, you have many styles to choose from.
You Can Have It All
And remember, when it comes to heating and fire features in your outdoor living spaces, it's not an either/or proposition.  This is especially true if you have a larger backyard. You can have an outdoor fireplace at the edge of your patio, near your outdoor kitchen, for example.
Then you could have a built-in fire pit in a different area of the patio near a seating area. Or you could create a new, smaller patio area in another area of your yard and have the fire pit there. This allows for a more private conversation area and a nice retreat when guests need a little respite from a large gathering.
Whatever you choose to do, just make sure you hire a reputable hardscaping contractor to do the job. Trying to cut corners can cost you in the long run.
Get a Better Outdoor Experience with Lazo
At Lazo, our mission is to provide our customers with beautiful landscaping and hardscaping elements that give you the better outdoor experience you deserve. We listen to what you want to accomplish, and we give you options to achieve your dreams.
If you're looking to add an outdoor fireplace or fire pit, we can help. Check out our Gallery page for examples of our work. We work with homeowners throughout central Maryland. Get a free estimate for your project by filling out the contact form or calling 866-568-6268.