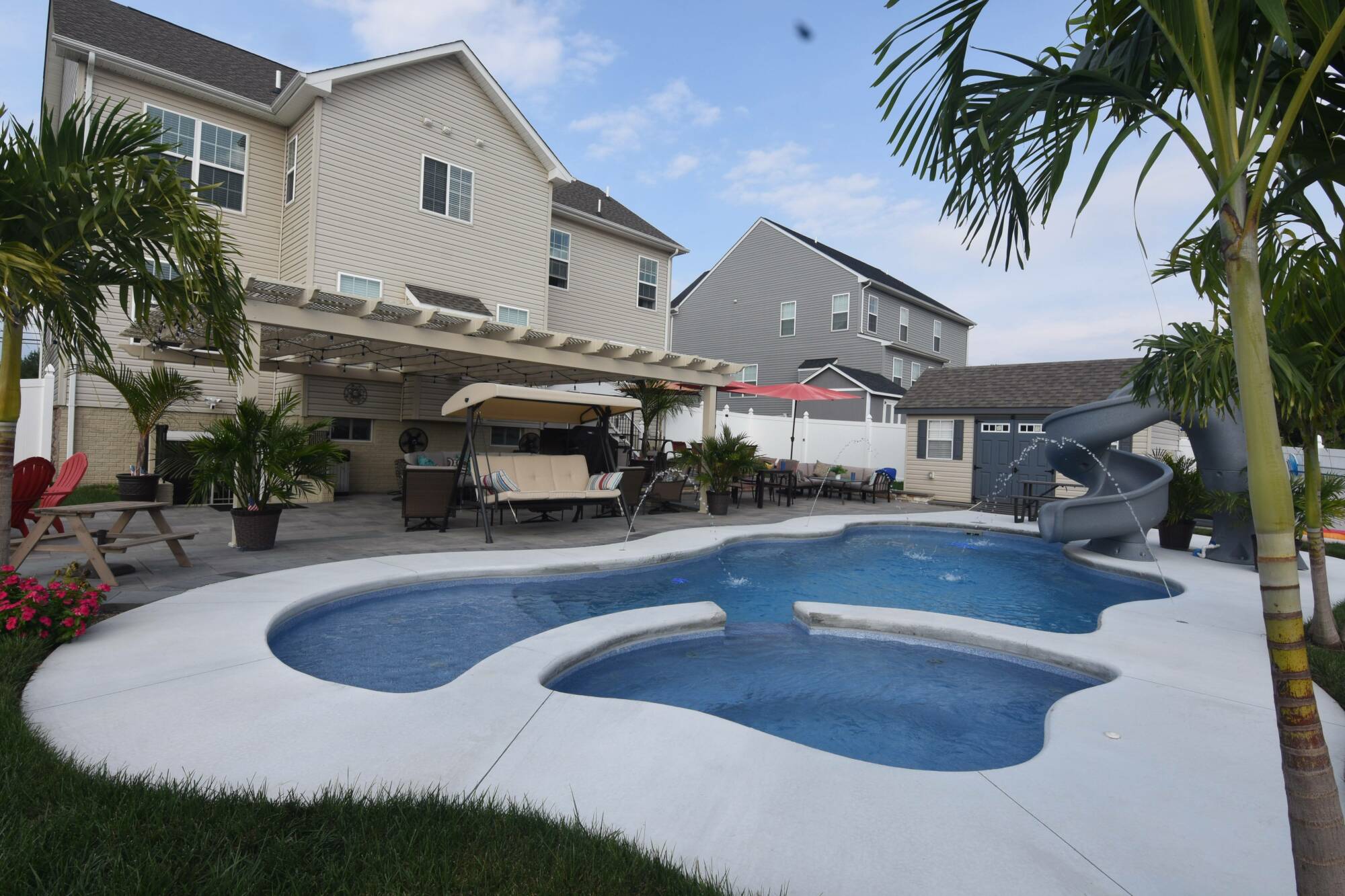 Why We Love Imagine Fiberglass Pools™
We don't know about you, but the frigid temperatures of winter have us dreaming about warm days hanging out at the pool. Those times are especially sweet if you're hosting a pool party at your own inground pool. We recently started installing Imagine Pools™, and we'd like to tell you why we chose to partner with them as an authorized dealer.
Reason #1: You Get Industry-Leading Construction
A fiberglass pool from Imagine Pools™ is built to last. They're manufactured with their patented Centurion Core™ technology, which features high-performance vinyl ester resin that is woven into each structural layer. Hand-laid fiberglass ensures additional strength and durability. Then it's all topped off with a premium gel coat finish in one of 7 stunning colors.
And, of course, you have several sizes and shapes to choose from, including freeform and rectangular. And don't forget the spa options and tanning ledge! 
Reason #2: You Get Fast Installation
The #1 advantage that a fiberglass pool has over a concrete or gunite pool is the speed of installation. Since your pool is constructed at a manufacturing facility, there is a lot less labor involved in your inground pool installation. Once the dig hole is complete and your pool arrives on a special truck, it's simply a matter of setting it into the ground. 
Then we arrange the plumbing and backfill around your pool as the water level rises. You'll be able to swim in it by the end of day 2! We complete pool decking and landscaping once the pool installation is finished. 
Reason #3: You Spend Less Time on Pool Maintenance
With a fiberglass pool, you spend less time on pool maintenance than you would with a concrete pool. That means you have more time to have fun! You will also never have to drain or resurface your pool. And to top it all off, the gel coat finish means you can use fewer chemicals to maintain the right pool water balance.
RELATED READING
Our Top 6 Reasons to Choose a Fiberglass Pool
Reason #4: You Get a Lifetime Warranty
Every pool we install is backed by a Lifetime Structural Warranty from Imagine Pools™. This covers structural defects, while the Lifetime Structural Osmosis Warranty covers you for issues such as blistering or weakened structure due to osmosis. In addition, you get a 10-year gel coat warranty! 
Get a Better Fiberglass Pool Installation Experience with Lazo
If 2022 is the year for you to add an inground pool to your backyard, we can help. In addition to fiberglass pool installation, as a landscaping and hardscaping company, we can also install your pool decking, pool landscaping, and pool fence.
We don't leave you with a pile of bare dirt like some pool companies do. You deserve better. Use the contact form or call 866-568-6265 to get a free estimate. The sooner you contact us, the sooner you can get your fiberglass pool installed. We serve homeowners in the greater Baltimore area.