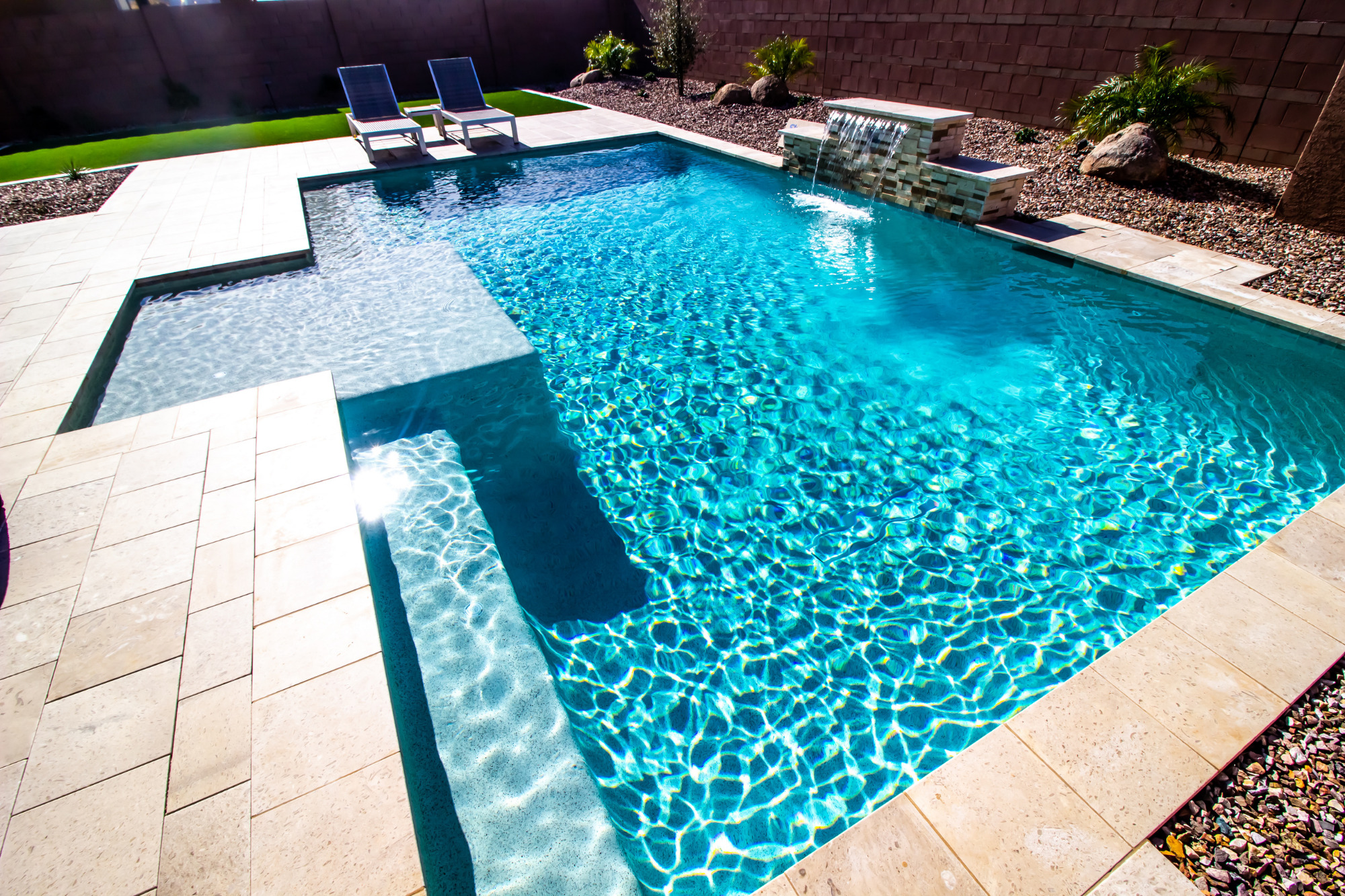 Must-Have Features for Your Inground Pool
Congratulations! You're thinking about adding an inground pool to your backyard. As you make decisions and plans, such as choosing a concrete pool or fiberglass pool, don't forget to think about the special features that give your pool personality! 
Today we're going to go over some of the must-have features for your inground pool, as determined by happy pool owners across the country.
Let's dive in.
If You Have Young Children
There's nothing to say you can't add these features even if you don't have young children, but with younger kids, these are certainly must-haves.
Splash Pad or Tanning Ledge

 
If you have young children who don't yet know how to swim, or who would rather splash than swim, a splash pad or tanning ledge in the pool is crucial. This ledge is built into the side of the pool, and little ones can sit down and play in just a few inches of water while you lounge nearby in a chaise lounge.
     2. Pool Slide 
A pool slide is great for kids of all ages, and adults who are young at heart. Just be sure to invest in a quality pool slide that is rated for the weight of who might be using it. S.R. Smith manufactures some of the best pool slides available.
     3. Jumping Rock
If you decide on a tropical, natural theme for your pool area, a jumping rock is a great addition if you have kids. Safer than a diving board, it gives kids a launching area to jump into the pool. They can be real rock, but can also be modular boulders.
     4. LED Pool Lights
OK, LED pool lights are a must-have even if you don't have kids, but we list them here because kids are so fond of the sound and light shows that you can do with color-changing pool lights. Installing pool lights lets you use your pool well after the sun goes down.
If You Have Teens or No Kids
Now we move on to the must-have features for your in-ground pool if you're looking for some sophistication and convenient features. (Fix the indent on the numbered list when posting.)
Attached or Separate Spa
The phrase "pool and spa" exists for a reason. They go together! Whether you choose an attached spa or a standalone spa, it's a must-have feature. Just imagine relaxing in the spa with your favorite beverage!
     2. Pebble Finish for a Gunite Pool
A pebble finish is a very cool alternative to a plaster finish for a concrete (gunite) pool. Pebble Technology is an industry leader in the field. Several textures and colors are available.
     3. Pool Waterfall
A pool waterfall adds elegance or a natural feel, depending on the type of waterfall you have us install.  From a serene spillway to a rock waterfall, a water feature is a must-have.
     4. Fire Bowls
Fire bowls lend a stunning atmosphere to your pool after dark. Copper or stone bowls with a fire feature rest on pillars or a retaining wall at the edge of your pool.
     5. Tanning Ledge
As we previously mentioned, parents can use a tanning ledge to stay close to little ones on a splash pad. But as the name implies, you can be in the water, and get a tan at the same time when you have a chaise lounge meant to be in the water. A definite must-have!
     6. Swim-Up Bar
If you want a true resort-like feel, a swim-up bar is a must-have feature when you install your inground pool. Our hardscape team can build the bar poolside, and our pool team can install the water-rated bar stools in the pool itself.
     7. Outdoor Shower
While it may not be in the pool, an outdoor shower is a must-have if you're the owner of an inground pool. There's no need to bring that chlorine smell with you into the house. Bonus: you can also use the outdoor shower to wash your dog, or cool off after a run.
     8. Automatic Pool Cover
An automatic pool cover is a great feature that protects your pool as well as people. It's easy to use (much more so than a pool cover you have to manually put on and take off.) You can quickly cover the pool when a big storm is coming to keep debris out of your pool. You can also easily close the cover if you're going on vacation.
So, this is our list of must-haves for an inground pool. What's on your list?
RELATED READING
Our Top 6 Reasons to Choose a Fiberglass Pool
Why We Love Imagine™ Fiberglass Pools
Get a Better Inground Pool Experience with Lazo
At Lazo, we do a lot more than landscaping. Our inground pool installation team designs and builds gunite pools as well as installs fiberglass pools from Imagine Pools™.  Lazo Pools is a division of Lazo Landscaping, so unlike some swimming pool contractors, we won't leave you with a pile of dirt or bare soil. We can regrade your yard around your new pool and install any landscaping features you want, including shrubs, flowers, trees, and a pool fence.
And of course, we can put in the pool decking of your choice, Popular options include concrete and travertine. We install inground pools for homeowners in Baltimore City and County, Harford County, Cecil County, Carroll County, Frederick County, Montgomery County, Howard County, Prince Georges County, and Anne Arundel County.