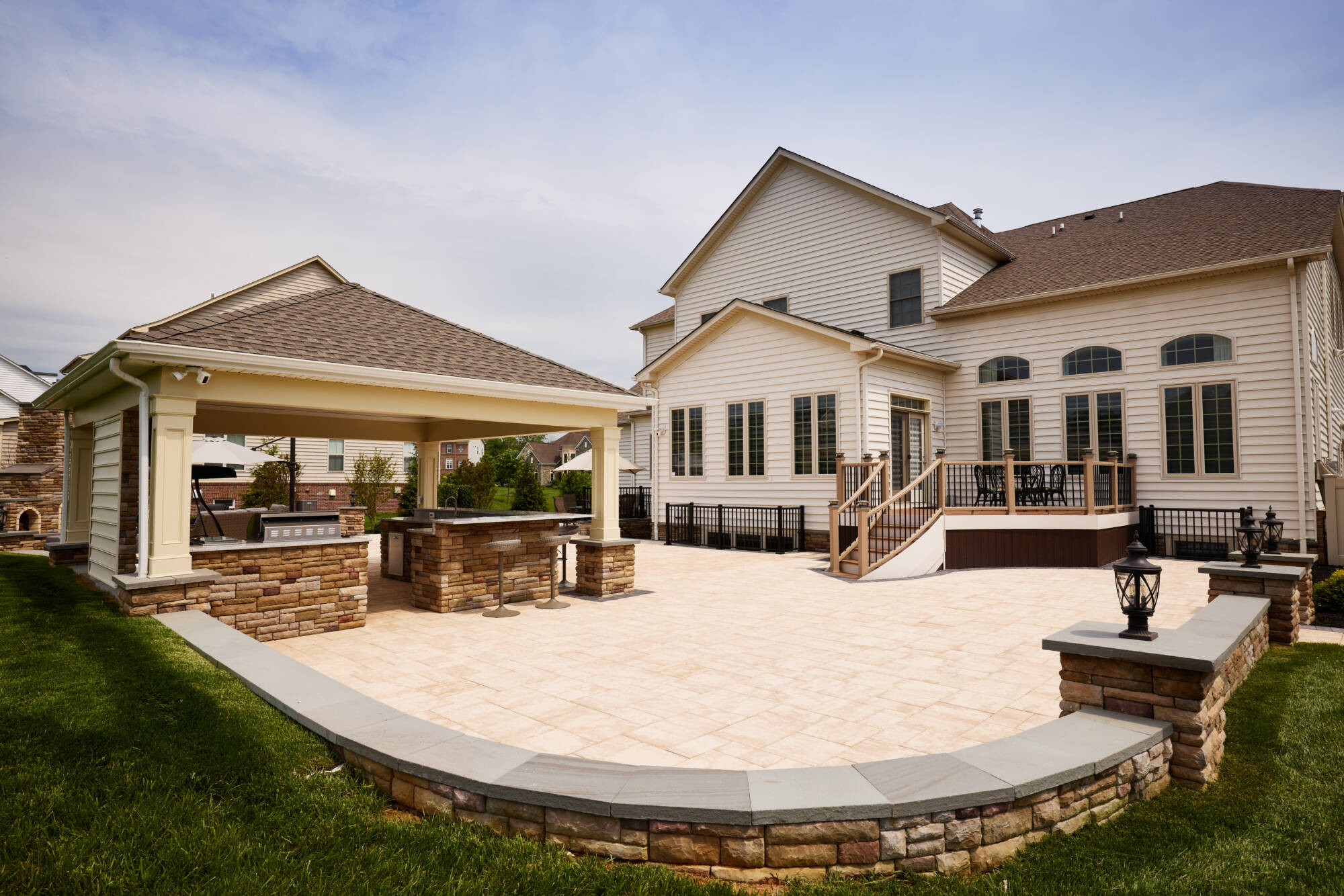 Hardscaping Trends for Hot Summers
If you feel like Maryland summers are getting hotter and longer, you're right. The nonprofit research group Climate Central recently published new summer warming research with federal climate data saying just that. One key finding: Since 1970, 81% of the locations in the study had 7 or more days above their 1991-2020 summer normal temperature. Baltimore had 12 days above normal.
But there are many ways to beat the heat and make the extended summer work for you and your family. If you like to spend time outside, you'll want to keep reading about some hardscaping trends for hot summers.
Let's get started.
1.    Pergolas and Pavilions
Pergolas and pavilions are a very popular hardscaping trend. These open-sided structures give you and your guests shelter from the sweltering sun as well as the stray shower. Pergolas have an open-beam roof, while pavilions have a solid roof. With both, you can add electrical wiring that permits you to install a ceiling fan and lighting.
2.    Durable Decking
If you've ever stepped barefoot onto a deck in the summer, you know that they can get quite hot. If you're in the market for a new deck, you may want to consider using a durable decking material rather than pressure-treated lumber, which can get quite hot. These include:
3.    Patios
If you like to spend a lot of time on your patio, see #1. You'll want some shade. Patios can also get quite hot underfoot. If you're thinking about installing a new patio, give some thought to the materials you use and how they heat up in the hot summer sun. Whatever material you choose, you can reduce the heat absorbed by choosing a lighter color. This will help reflect the heat.
Some cooling options for a patio that will help you beat the heat include:
Porcelain tile – by far the coolest material underfoot
Limestone
Sandstone
Travertine
Bluestone
Light-colored concrete pavers and patio slabs
And if you're just trying to cool down the patio you do have, try an outdoor area rug.
RELATED READING: Natural Stone vs Concrete Pavers: Which One Is Right for Your Project?
4.    Retaining Walls
Retaining walls can be both functional and beautiful. They can also help you beat the heat. If you have one or more retaining walls around your patio or backyard area and they're high enough, they can provide some shade. And if you cap them with one of the cooler stones we mentioned above, they can add cool and comfortable built-in seating. Otherwise, you may want to add cushions for seating so no one sits in the hot seat!
RELATED READING: What Is a Retaining Wall, and Do You Need One?
5.    Fountains
Who doesn't love a fountain? The sound of the water can help block out noise from the neighbors and add a luxurious look and feel to your patio area. And of course, you and the kids can splash your hands in a fountain to help cool off on those really hot summer days. They come in all sorts of styles, shapes, and sizes to fit a variety of tastes.
We may be in the dog days of summer, but it's not too late to implement one or more of these hardscaping trends. You'll increase your enjoyment of your outdoor living space for many more summers to come.
Get a Better Outdoor Experience with Lazo
If you're looking to upgrade your backyard for a cooler and more enjoyable experience, we can help. Our hardscape design and installation team have the skills and knowledge you need to ensure a better outdoor experience. We install all of the hardscape features mentioned in this article, as well as outdoor kitchens, outdoor fireplaces, fire pits, and inground pools. Check out our Gallery for examples of our work.
We serve homeowners in Baltimore City and County, Harford County, Cecil County, Carroll County, Frederick County, Montgomery County, Howard County, Prince Georges County, and Anne Arundel County. Call 866.568.6264 to get started.