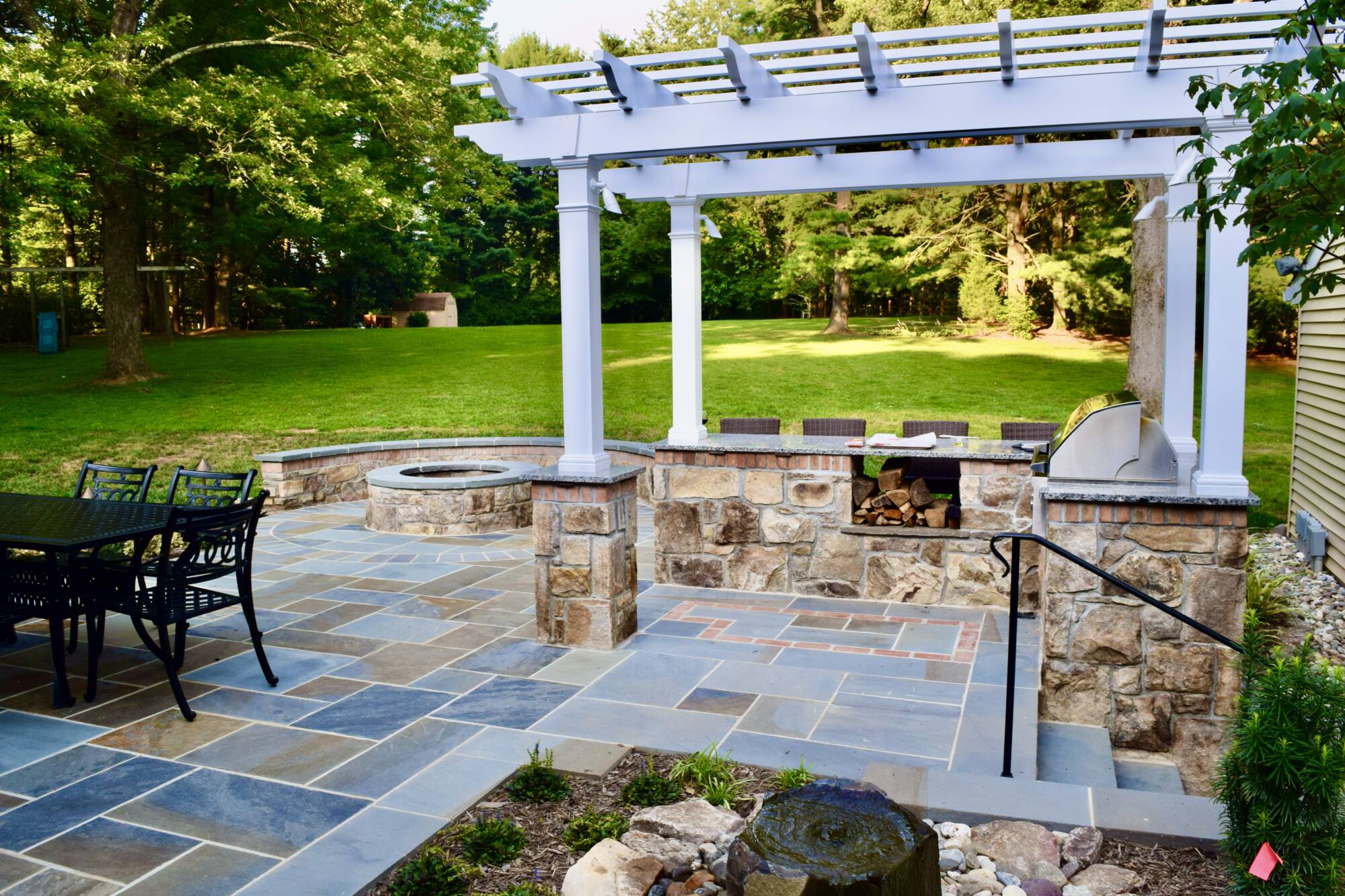 Paver Patio Installation with Patio Slabs: Living Large
If you're thinking about a paver patio installation but you're looking for something different, think big. We're talking about patio slabs – aka large-scale patio pavers (not the ugly one-piece concrete slab patio of the past). These large format patio pavers/slabs have the look of natural stone, as well as porcelain tile, and give patios an upscale look for less.
They're bold and beautiful, and can be used in an interlocking design, or broken up by grass, rock, or smaller pavers in a contrasting color. 
Our Large-Scale Patio Paver Suppliers
To help you visualize the options, we recommend looking at products from Techo-Bloc and E.P. Henry. These large-scale pavers are an excellent choice for your patio, walkways, and pool deck. Designed to look like natural stone such as slate, sandstone, and travertine, as well as porcelain tile and even wood planks, you get the natural look at a fraction of the cost. There are even new overlay systems that can be put down over an existing concrete slab patio or pool deck. 
The large format pavers are growing in popularity as part of the "indoor/outdoor living" design concept. Interior flooring is seeing wider planks and larger tiles, and as that trend surges, homeowners are seeking to continue the look in their outdoor living spaces. 
Shapes, Sizes, Textures, and Colors
Patio slabs or large-scale pavers are available in a wide variety of shapes, sizes (large and larger), textures, and colors. Shapes include square, rectangular, plank style, and irregular. Most colors are lighter neutral colors, and a smooth texture with a grip surface is very popular. But of course, you go with what appeals to you. 
Our design team can help you select the pavers that best suit your tastes and your home's exterior. 
RELATED READING
Natural Stone vs Concrete Pavers: Pros and Cons
How to Choose the Right Pavers for Your Patio and Walkways
Partner with Lazo for Patio Installation within 30 Days. Guaranteed.
If you're looking for affordable patio contractors who can design and complete your patio installation within 30 days, you're in the right place. At Lazo, we have a large team of employees and access to all of the materials you need for your new patio. Contact us today for a FREE estimate – use our contact form or call 866-568-6264.
We serve homeowners throughout central Maryland, including Baltimore County, Baltimore City, Carroll County, Harford County, Cecil County, Anne Arundel County, Frederick County, Montgomery County, Prince George's County, Howard County, and southern York and Lancaster counties in Pennsylvania.