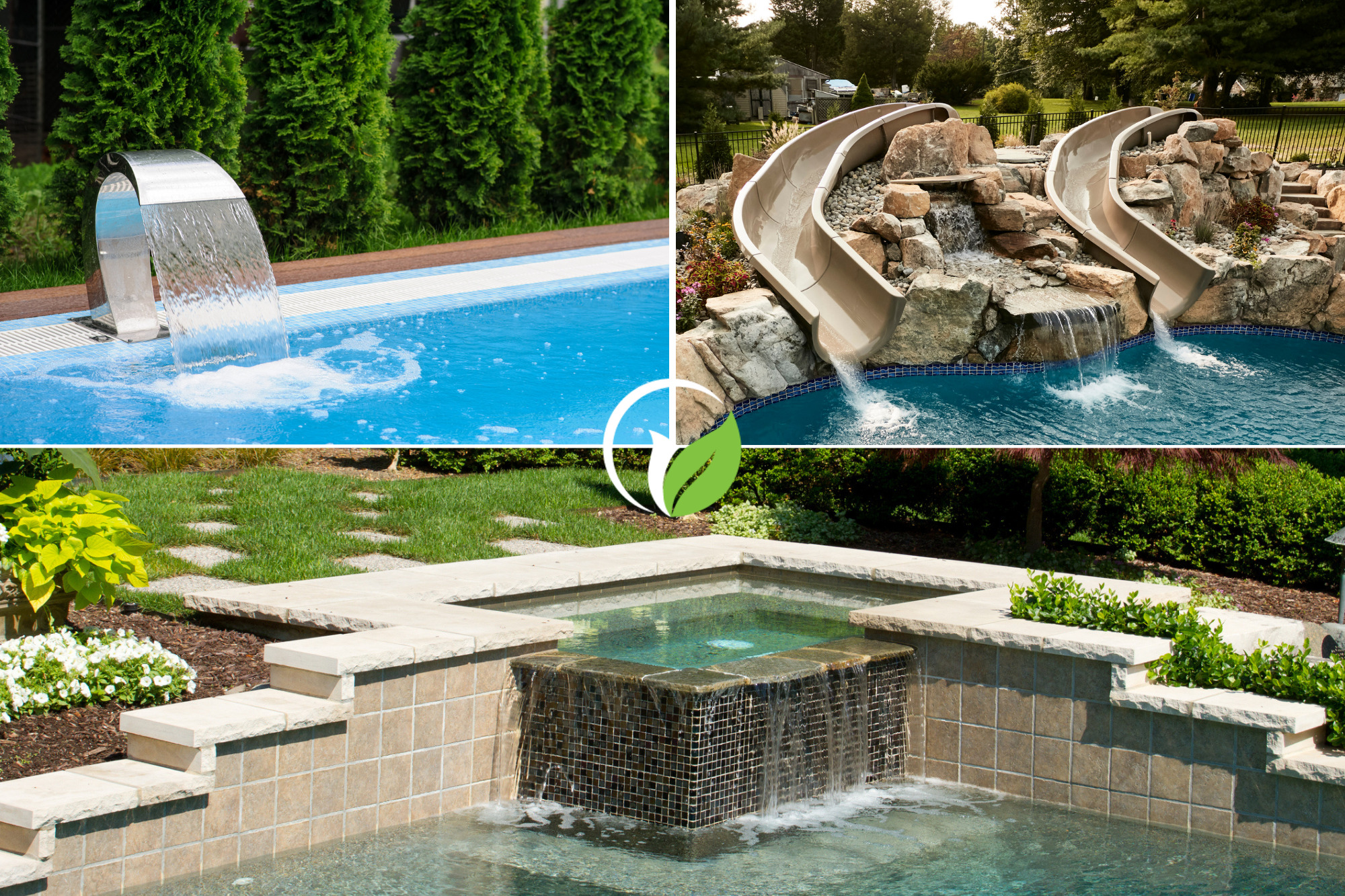 Pool Waterfalls, Pool Fountains, and Pool Slides: What's the Best Feature for Your Pool?
If you're going to invest in a new inground pool, you want to make sure you include one or more pool water features. Why? Because they're cool and will bring beauty and entertainment to your pool. They also improve filtration and reduce the possibility of stagnant water.
There are 3 main types of water features: pool waterfalls, pool fountains, and pool slides. Today we're going to discuss some of the most popular features. As you read, think about what features would best fit in with your family and your aesthetic.
Pool Waterfalls
Pool waterfalls are by far the most popular pool water feature. There are several types to choose from. Which one is right for you depends on if you're going for a tropical feel or an elegant look, or even somewhere in between.
Pool Rock Waterfall
A pool rock waterfall is a major undertaking for your inground pool. Using either natural rock or manufactured rock, your pool installer runs plumbing lines to create a waterfall that runs over the rocks and falls into the pool below. Depending on the height of the rocks, you may even be able to create a pool grotto behind the waterfall.
Cascade Waterfall
A cascade waterfall is more formal than a rock waterfall. Another name for the cascade waterfall is sheer descent. This waterfall can come sheeting down or in a raindrop pattern. These pool waterfalls are usually installed at the edge of your pool, and the water arcs out 2-4' from the pool's edge.
Spa Spillover Waterfall
Perhaps one of the easiest ways to incorporate a waterfall into your inground pool design is to have your raised spa's spillway spill over into the pool. The greater the height of your spa above your pool, the greater the waterfall.
Scuppers
Pool scuppers are usually metal channels that can pour water into your pool from your spa, or installed on the side of your pool. The shape of the scupper (round, rectangular, U-shaped) shapes the water stream that comes out.
Fire and Water Bowls
Fire and water bowls are becoming a very popular pool water feature. Made of metal or concrete, a bowl within a bowl holds the fire, while water comes out below. Fire and water bowls are usually placed on pedestals for safety reasons. The effect is very dramatic.
Pool Fountains
Pool fountains can add an elegant touch or a fun touch, or both. Types of pool fountains include:
Bubblers
Bubblers are small pool fountains that create small columns of water 2-3' in height. These fountains are usually located in shallow water, such as at a beach entry, tanning ledge, or spa.
Deck Jets or Laminars
Deck jets and Laminars are installed usually installed in your pool decking or gunite pool walls. They propel a stream of water in graceful water arcs. Laminars can propel the water very high. You can create a nighttime water show with your deck jets and LED pool lighting.
Pool Slide
If you have kids, a pool slide for your inground pool is a must-have. By adding a water slide to your pool deck, you're creating a water park atmosphere in your own backyard. When you choose your pool slide, be sure to think about the weight of the people who will be using it. Most of our clients opt for a slide that can hold the weight of adults who are kids at heart.
One of the best pool slide manufacturers in the business is S.R. Smith. All of their slides are safety tested and compliant with Consumer Product Safety Commission (CPSC) standards.
RELATED READING:
The best water feature(s) for your inground pool are the ones that bring you joy. You can incorporate a pool slide into your pool rock waterfall. You can have one or more pool fountains and a pool waterfall. The only limit is your imagination and your budget.
But if you want anything other than a portable pool slide or floating fountain, it's important to work with pool professionals. That way you ensure the installation is done right, and you don't potentially void a manufacturer's warranty.
Get a Better Inground Pool Experience with Lazo
If you're looking to get an inground pool installed and dreaming about what water features to include, we can help. Our pool design and installation team have the skills and knowledge you need to ensure a better pool experience. We install both fiberglass pools and custom concrete/gunite pools. We can also handle your pool landscaping and installing your pool fence.
We serve homeowners in Baltimore City and County, Harford County, Cecil County, Carroll County, Frederick County, Montgomery County, Howard County, Prince Georges County, and Anne Arundel County. Call 866.730.4157 to get started.